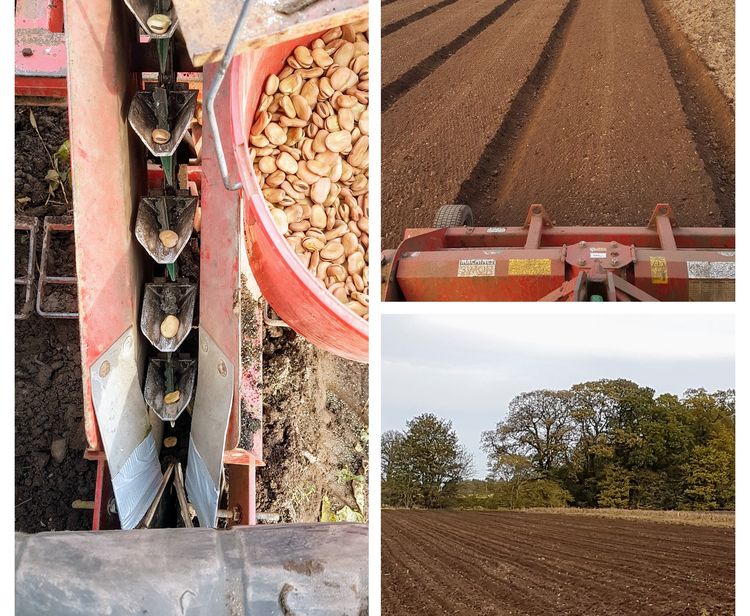 13th November 2017
Its been a week of nice weather, frosty in the mornings but nice and dry, which has helped us get the broad beans planted, the broad beans we plant using our planter that is on the tractor for planting all the blocked plants throughout the year, the broad beans are not a transplant plant they are planted as a seed, the seeds are pretty big so a really easy to place in the cups as they come round on the planter, broad beans come on pretty rapid when just planted straight into the ground, even at this time of the year we should see them coming through the soil in about 3 weeks, the ones we planted in the tunnel came through in about a fortnight, like I have said before they are also a great crop for fixing their own nitrogen in the soil, we now have a acre of broad beans in for over winter out in the field plus our 90 meter cosy tunnel also has broad beans, these should hopefully come earlier than the field ones and should give us a nice spread of beans early in they year. Unless we get a very cold winter then its all been for nothing.
Also in the tunnels we got five thousand Purple Sprouting Broccoli plants planted, these are all planted by hand, and this week we should get the five thousand over winter Cabbage plants planted in the other tunnel that is prepared, followed on by five thousand Pack Choy plants we blocked of a fortnight ago, with all these plants planted we should have a nice lot to harvest early in the year when there isn't a lot available, Although I still want a nice cold winter in the mountains for climbing and skiing and mild at the farm, is that to much to ask for ?.
After the planting was all done it was time to start putting in new posts for the extra 120 Raspberries plants I have ordered, these should be arriving in early December, this will now give us 240 Raspberry canes, and to top that I ordered 120 Strawberry plants, another crop I know nothing about, but worth trying out as long as we don't eat them all ourself.
Back to organic blog