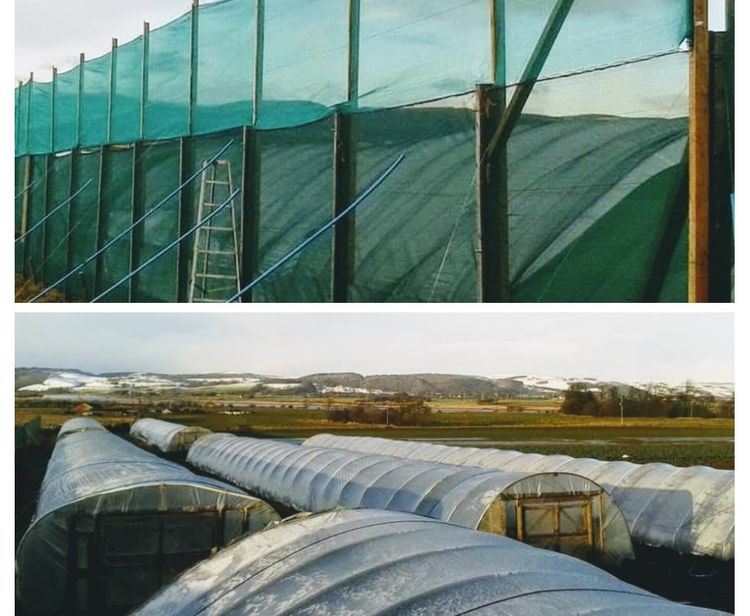 23rd October 2017
With winter on its way it also brings strong winds this brings exciting times with fingers crossed that our tunnels survive, we do have a fifteen foot high windbreak, windbreaks are designed to filter the wind reducing its strength, but if the wind starts getting around 70mph and more we can expect damage, and its better to cut the polythene rather than get tunnel structure damage,
So hopefully we survive all these strong winds as we are away to start planting Purple sprouting broccoli, Spring cabbage and will be sowing Pack choy a total of fifteen thousand plants, which will all hopefully survive the winter and give us a good harvest early next year.
Last weekend we done the Glasgow BBC good food show it was a long busy weekend, it was on Friday, Saturday and Sunday, Its the first time we have done this show and there were a few famous chefs there showing of their talents, So we had a busy build up in the fields and shed harvesting and packing extra veg to get ready for this event.
Onto this coming week, at long last its looking like the sweetcorn is ready, its a really tricky one because we can only go on how full we feel the cob is as it is covered in tight leaves, which helps keep them fresh, but we have now picked around 25 and stripped them all down to just the cob and there were only a couple that were only 80% full, and time is getting on and they will defiantly not stand the frost, so we are going to harvest them and apologies and please let us know if you do get any that aren't fully ready,
Also if the weather stays dry I will be getting on with some ploughing then get some broad beans planted in the field.
Back to organic blog